Omega Black Wire Shelving
Here at Omega Storage Solutions, we offer a variety of wire shelving options and accessories. One of our most popular products is black wire shelving. Therefore, we thought we'd take this opportunity to teach you about our black wire shelving units.
What are they?
How much weight can they hold?
Why purchase wire shelving in black?
Keep reading! We'll answer those questions and more in this month's product spotlight.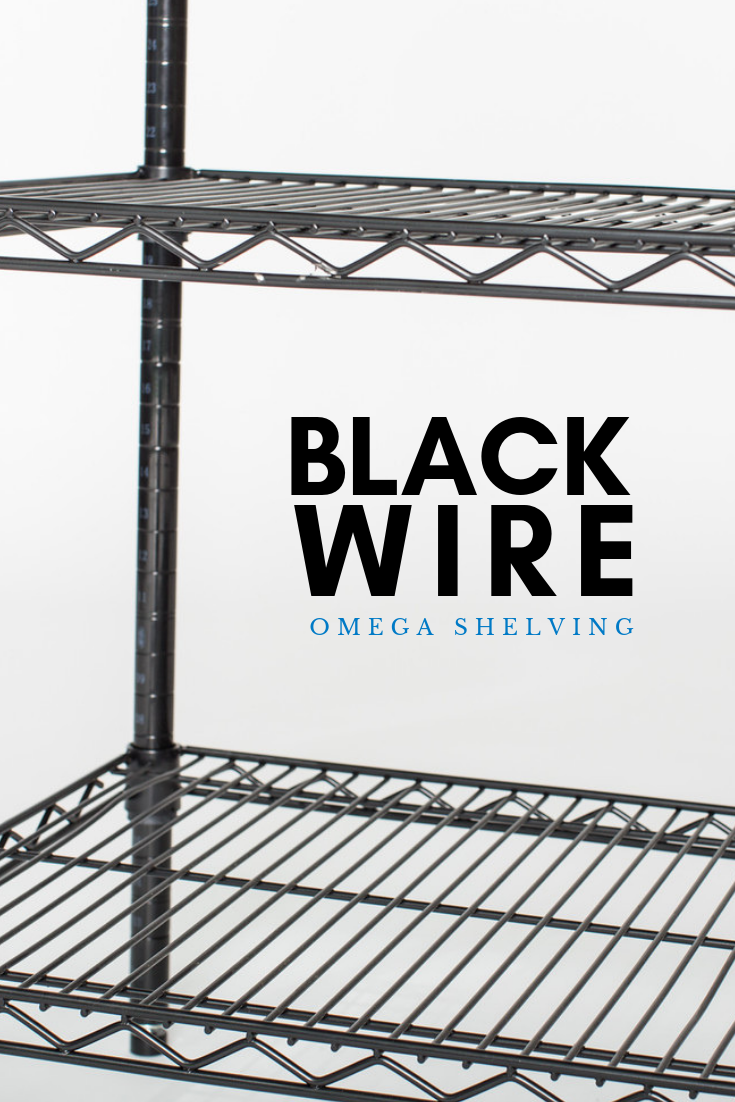 Black Wire Shelving
Black wire shelving offers a sleek alternative to chrome wire shelving as well as extra protection against rust formation due to its epoxy finish.
Epoxy is a smooth and durable finish, mainly bought for the appeal of the black color. The epoxy coating is baked onto these steel-made shelves and acts as an additional layer of protection against rust and corrosion. Its resilience allows the shelving to withstand cold temperatures and moisture while working to prevent tarnishing or buildup from bacteria. As a result, black wire shelves provide a durable and safe storage option against germs and temperature fluctuations.
Black Wire Shelving Weight Capacity
Black wire shelves offer the same weight bearing capacity as our chrome wire shelves. In fact, black wire is equipped with all the benefits of chrome wire shelving, including an unbelievable weight capacity and top air circulation.
Black wire shelving is available in shelf depths of 14″, 18″. 21″& 24″. Shelf lengths start at 24″. We go up every 6 inches in length so you can rest assured we have the perfect size for your specific space. Shelf capacity is between 600-800 lbs per shelf (that' for each individual shelf).  Maximum capacity for an entire unit is 2400 lbs. Standard heights are 14", 36″, 54", 63″, 74″, and 86″.  However, if you need a specific height we can customize to fit your specific needs.  Black wire shelving accessories include shelf liners, black shelf dividers, and black shelf ledges.
Why Buy Black?
Many retailers and warehouses prefer the look of black wire shelving because of its subtle coloring and slightly lower price point than chrome. It's also a popular storage unit for your home garage.
Black wire shelves are suitable for both dry and humid environments, so they are very multifaceted.  Whether you want to use them in your storefront or to hold your sports gear in the garage, the versatility is there.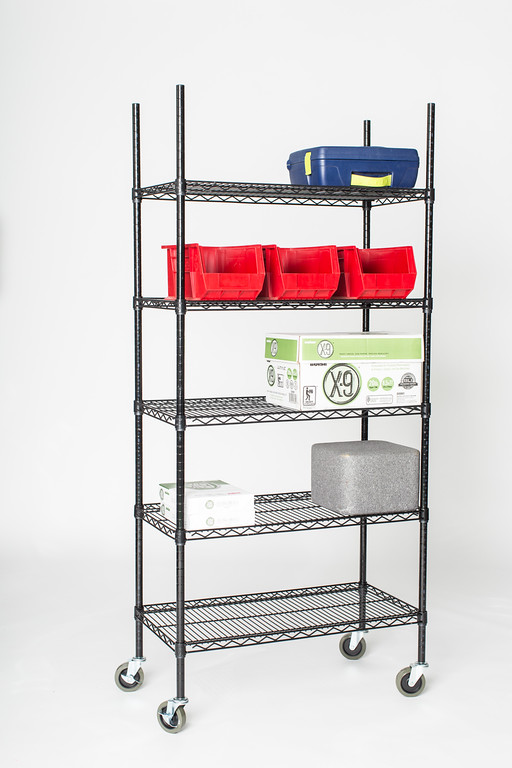 If you are looking for a stylish alternative to our chrome wire shelves, black will certainly do the trick! Our team loves answering your questions, so feel to reach out to us by phone or Live Chat.