Types of Restaurant Shelving
When it comes to maintaining adequate storage in the restaurant business, proper shelving is critical. 
Now, there are all kinds of shelves, materials, components, and accessories to choose from when buying proper storage for your restaurant. However, before you begin to feel overwhelmed, we're here to walk you through all the options.
In this post, we'll take an in-depth look at the different types of restaurant shelving. That way, by the end of this article, you'll know exactly how to pick the perfect storage unit for your commercial kitchen.
Sound good? Let's dive in.
Restaurant Shelving Material Types
Restaurant shelving is manufactured in a number of different industrial material options. Each material serves a particular purpose and can look slightly different. Let's take a look at the most common options below.
Chrome Wire
The most common industrial shelving material is chrome. It's cost-effective, and most retailers are NSF certified. Chrome-plated wire shelving units are ideal for dry storage or heated environments. They're designed to increase visibility and maintain ventilation. 
However, do keep in mind chrome wire shelving is prone to rust if used in a humid environment.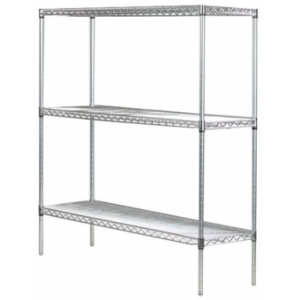 Epoxy Coated
Epoxy coated wire shelving units are much more resistant to humid environments. Use epoxy coated shelving in walk-in coolers or when dealing with moist storage. Different manufacturers sell different colors of epoxy coated shelves, but all shades of epoxy will give you the same excellent protection against corrosion. 
The most common epoxy shelf colors include black epoxy coated wire shelving, often used in retail settings due to its subtle coloring, and green epoxy wire shelving, which tends to be a characteristic of the foodservice industry.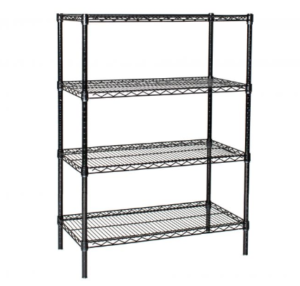 Anti-Microbial
Anti-microbial shelves can be constructed in all the materials above, but they come with an extra layer of anti-microbial protection built into them. This layer shields the unit from bacteria, mold, mildew, and fungi that could potentially contaminate food or cause unpleasant odors. Often these shelves are sold in a green color.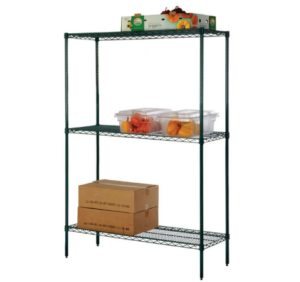 Stainless Steel
Stainless steel shelving is one of the most durable and versatile types of shelving available. However, it's also the most expensive. It may look similar to chrome, but it is shinier and slightly brighter.
Thanks to its natural corrosion-resistance, stainless steel can withstand rough, heavy-use applications in virtually any environment. Use it in either whether wet or dry spaces.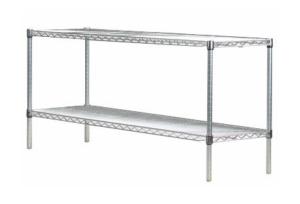 Types of Restaurant Shelves
Not only are there different materials to consider, but there are also different shelf styles. Depending on the storage needs of your restaurant, you may prefer one style or a combination of the most commonly used below.
Solid Shelves
Since solid shelves do not have openings on their surface, you can store any size or type of item on them without the risk of it slipping through the rails or spilling onto the items below it. 
The downside to solid shelves is that they don't breathe as well as vented shelves, which makes them best for dry storage.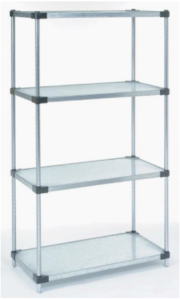 Vented Shelves
Vented shelves are an excellent option for any cold storage application because they promote air circulation through the unit for maximum product shelf life. They also offer greater visibility when trying to identify what items you have in inventory. 
The downside is that they do not prevent items on higher shelves from dripping or spilling onto items on lower shelves.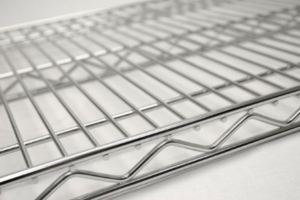 Wine Shelving
Keeping bottles of Riesling, Merlot, Pinot Grigio, and more is easy and inexpensive with wire wine rack shelving. The open wire construction of the wine shelving provides perfect air circulation and temperature consistency. Wine bottles are situated horizontally to keep the wine in contact with the cork which preserves the wine's flavor, and heavy gauge wire cradles prevent bottles from bumping or rolling against each other.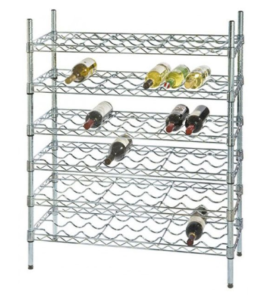 Wall Mount Shelving
This type of shelving is Ideal for creating storage space over prep tables and other work areas. Wall-mount shelving will allow you to keep ingredient canisters, spices, and other important tools organized all while maximizing your space.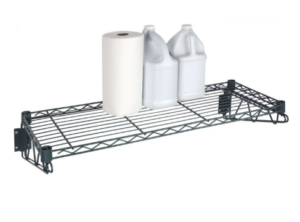 Security Shelving
Security shelving cabinets are another excellent option. Especially when you need to protect your employees' valuables or sensitive items, such as high-end liquor. These units typically lock but also allow you to view their contents through their open wire design.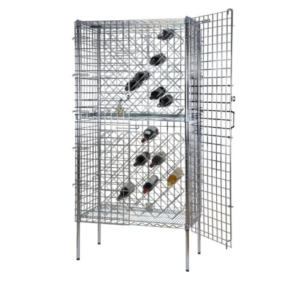 Restaurant Shelving Accessories
Lastly, there are several additional accessories that can help with your commercial kitchen storage. Many restaurants incorporate a variety of these add-ons onto their units as per individual needs.
Casters & Wheels
Casters come in a variety of different diameters and materials. However, despite their differences, each will transform stationary shelving units into mobile ones. For more on adding wheels to industrial storage, check out our article on How To Choose the Right Casters for Your Wire Shelving Unit.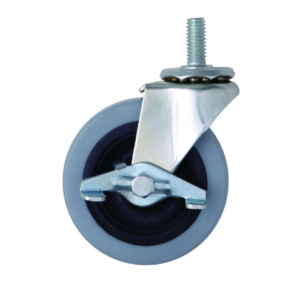 Utility Baskets
Sometimes a shelving unit alone isn't enough, especially when it comes to storing small and loose items. Wire utility baskets attach directly to your shelving unit and are a great place to store cooking utensils, extra restaurant equipment parts, etc.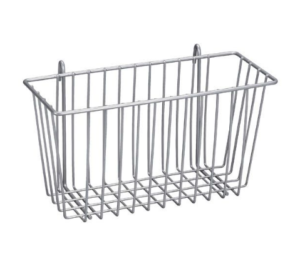 Shelf Dividers
Again, similar to the shelving units themselves, wire shelf dividers are available in a variety of matching finishes and different sizes to suit individual needs. These are great for breaking long shelves into smaller for further organization.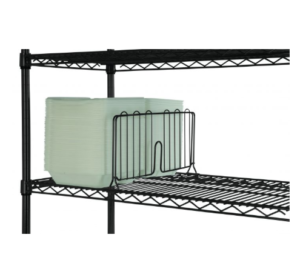 Shelf Ledges
If you require a bit more stability, a few wire ledges will keep items from rolling or falling off your shelving unit. Ledges can also be stacked on top of each other for additional height.

Label Holder 
When maintaining functional kitchen storage, it's important to label ingredients and other stored foods. With wire shelf label holders, not only will you keep your shelves organized, but they will also help your employees work more efficiently since they will know exactly where to go to find the item they're looking for.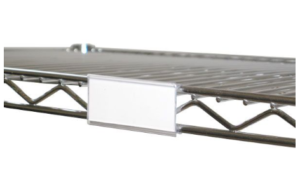 Shelf Covers
Shelf covers are designed to protect your shelves from water, dust, and other possible contaminants. They come in different sizes, colors, and materials, with some being waterproof.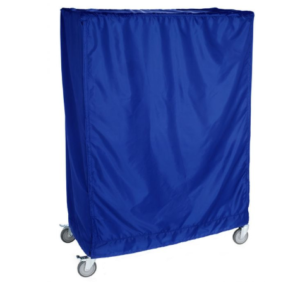 We at Omega Storage Solutions specialize in both commercial and home storage products. If you would like to speak with one of our shelving experts, please call 1-800-221-8665 or click the Live Chat. Our knowledgable representatives are standing by, ready to assist. 
For more restaurant inspiration, be sure to check out our article Tips for Organizing A Restaurant Freezer.