Hospitality Carts and Wire Shelving
The hospitality industry operates in the realm of treating and caring for customers in various sectors including Food and Beverage, Lodging, Recreation, Travel, and Tourism.
It's an industry that continues to grow each year in the United States, and that means that these sectors need to be equipped with the right tools to best assist their clientele.
Hospitality carts come in all shapes, sizes, and materials. However, one of the most cost efficient and reliable styles is that of wire shelving utility carts.
In this post, we will take a look at wire shelving cart options and how they benefit various hospitality businesses.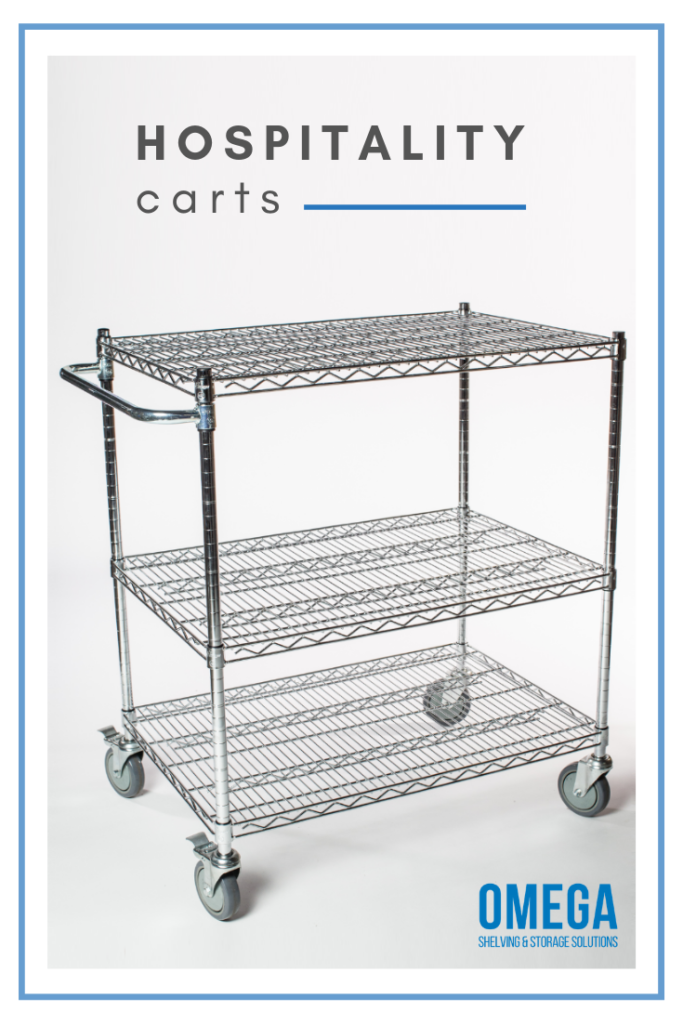 Wire Utility Carts
Wire shelving carts are a staple in the hospitality industry. Not only do they provide effective transportation and storage, but enhance flexibility and productivity among staff. So, whether used in a hotel, food services, or any other hospitality field, these types of mobile storage are a highly dependable source.
Wire utility carts provide both linens and food storage with mobile flexibility to promote competent services. Most available options include either two or three shelf components made from sturdy wire construction which allows airflow to prevent dust and promote cleanliness. The open wire design helps speed item access when working with time constraints and the need to have things in order before new guests check in.
Types of wire utility carts include:
Stainless Steel Carts
Chrome Wire Carts
Black Wire Carts
Stainless Steel Utility Carts
Stainless steel is one of the most sanitary of materials and is great for the healthcare and food sectors. These carts can support up to 1200lbs, with even weight distribution.
This type of wire shelving is also very low maintenance, and sturdy. The stainless steel can also be used outdoors or in wet environments and will never rust. However, stainless steel's biggest drawback is the high price tag, as this is the most expensive option.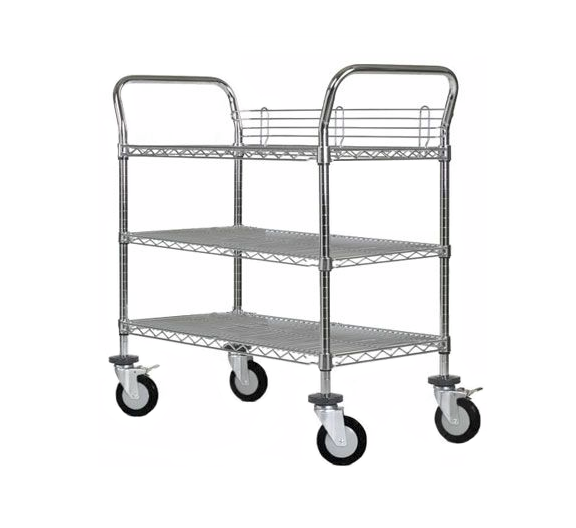 Chrome Utility
Professionals can certainly rely on chrome mobile shelving units to serve guests and staff alike. Very similar to stainless, but at a more affordable price point, these carts provide ample space to stack clean folded bedding or empty serving dishes, etc. They're easy to use and help maids or kitchen staff bring items to wherever needed fast and without physical strain on the body.
Chrome plating is also resistant to rust, dust, and damage, and is extremely versatile to suit the needs of any hospitality business.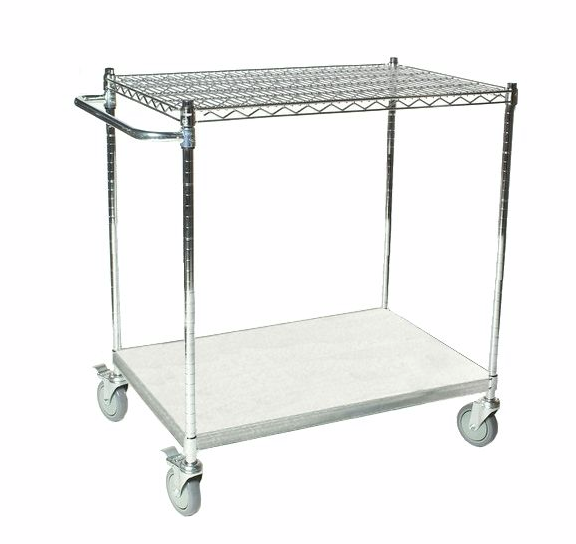 Black Wire Utility Carts
Black wire carts are a great alternative to chrome. The only significant difference is the color. This option is purely a matter of preference in appearance. Our black wire utility carts provide the same high weight capacity of 1200lbs. They are just as easy to steer as the others and can fit perfectly into closets.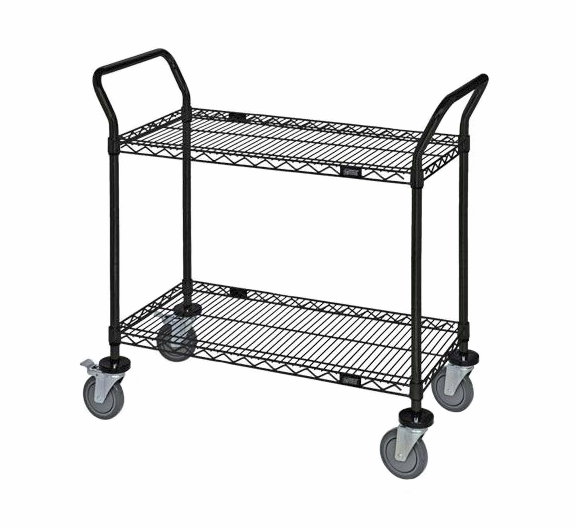 At Omega, we specialize in everything wire shelving. All of our utility carts are NSF certified and customizable with our full line of accessories. For assistance shopping our various hospitality carts, please call us at 1-800-221-8665 or contact us on Live Chat.