Product Spotlight: Plastic Shelf Bins
At Omega Products Corporation, not only do we sell quality wire shelving, but we are also stocked with dozens of durable shelving accessories to help keep your storage efficient.
Some of our most universal accessories are the high-density Plastic Shelf Bins. The strength and versatility of our bins make them perfect for a number of industries, including medical, hospitality, retail, and more!
For a deeper dive into our product of the month, keep reading. We'll share what makes these bins an excellent addition to any storage unit and talk about some of the sizes and styles we offer.
Let's take a look!
Omega Industrial Bins   
Stack and Hang Bins
Stack and hang bins are the most popular of our industrial bins and are suitable for most work operations. They're molded to increase the visibility of bin contents and range in height and depth in order to accommodate industry needs.
These bins have front, back and side grips for easy handling and most can be purchased in black, blue, red, yellow, ivory, and green. Their built-in rear hanger allows for the bins to hang from louvered panels or rails, and the side stacking ledge and anti-slide lock keep stacked bins steady and prevent forward shifting. They're water-resistant and rust and corrosion-proof too. Their hard-wearing plastic is impervious to most chemicals and can withstand up to 250 degrees F as well as hold up to the extreme cold. They even come complete with large molded front slots for ID labels

Shelf Bins
These bins are built just like the stack and hang bins, only the dimensions are a bit different. Designed for 12″ deep shelf units, these shelf bins are longer and narrower. They also feature a molded-in label holder and built-in rear hang lock which allows bins to tilt out for complete access when on shelving. Edges are reinforced for added strength, and the wide front allows for easy access to the contents of the bin. Bins are impervious to most chemicals as well, and the wide high-density plastic is the industry standard for quality.

Dividable Grid Containers
For something more heavy-duty, but still just as versatile, we stock dividable grid containers in a number of dimensions. Use them in industrial, commercial, electronic and healthcare industries for storage, assembly, fabrication and distribution applications. These containers offer the safest and most efficient method for compartmentalizing and protecting small to medium-sized parts.
Use additional dividers within the bin to customize the container's interior to meet your exact needs.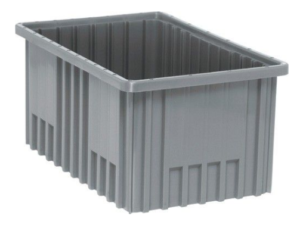 Double Hopper Bins
These polypropylene plastic storage bins provide an open hopper front and back, allowing double access to stored parts. Double hopper bins stack one on top of the other, both vertically and cross-wise, and nest when empty for space efficiency. Optional dividers may be used front to back, side to side or both at the same time, dividing the bin into four sections.
These bins are also equipped with a molded-in label holder on both the front and back of the bin. Bins can be used on standard metal or wire shelving as well as on desks, bench tops or work stations. Our Omega hopper bins are available in 6 sizes and in 3 colors: blue, yellow, and red.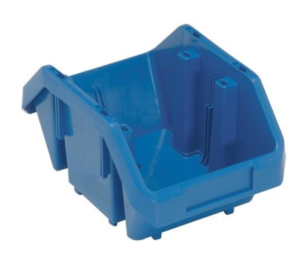 We even stock heavy-duty hopper bins for further storage. These bins will stack up to 6 bins high creating a sturdy, tall storage system. Bins are injection molded from high-density polypropylene, easy to clean, resist corrosion and are impervious to most chemicals.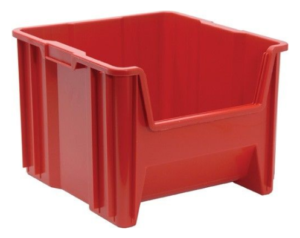 Hulk Containers
These extra-large stacking containers offer a generous 2 feet in length to store your larger items. Hulk containers are ideal for back to back use on 48″ pallet rack or heavy-duty, extra deep shelving, preferably 24" deep wire shelving.  Their Heavy-duty front, back, and side grips allow for easy handling. The wide stacking ledge and anti-slide lock keep stacked bins steady and prevent forward shifting. Like the other industrial bins, we have discussed, these hulk containers are waterproof and made to resist rust and corrosion. Bins are Autoclavable up to 250 degrees F and are resistant to extreme cold. Omega hulk containers are stocked in and available in blue, red, and yellow.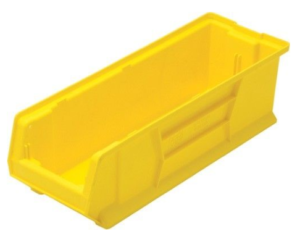 Magnum Bins
Magnum bins are ideal for transportation and storage of large and heavy components. Their open hopper front allows for immediate access and visibility and also have a molded-in label slot. The ribbed reinforced walls ensure extra strength with double-wall thickness and preformed lip allowing bin to interlock and provide up to 150 lbs. stack capacity. Transport these bins easily with rear molded handle. These too are impervious to most solvents and corrosion and can resist temperatures from -40 degrees F to 250 degrees F.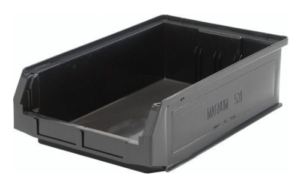 All Omega industrial bins are built tough and will not to break or crack under normal load conditions.
All of our bins are manufactured of FDA approved materials. You can easily clean any of the bins mentioned in this article with soap and water as needed.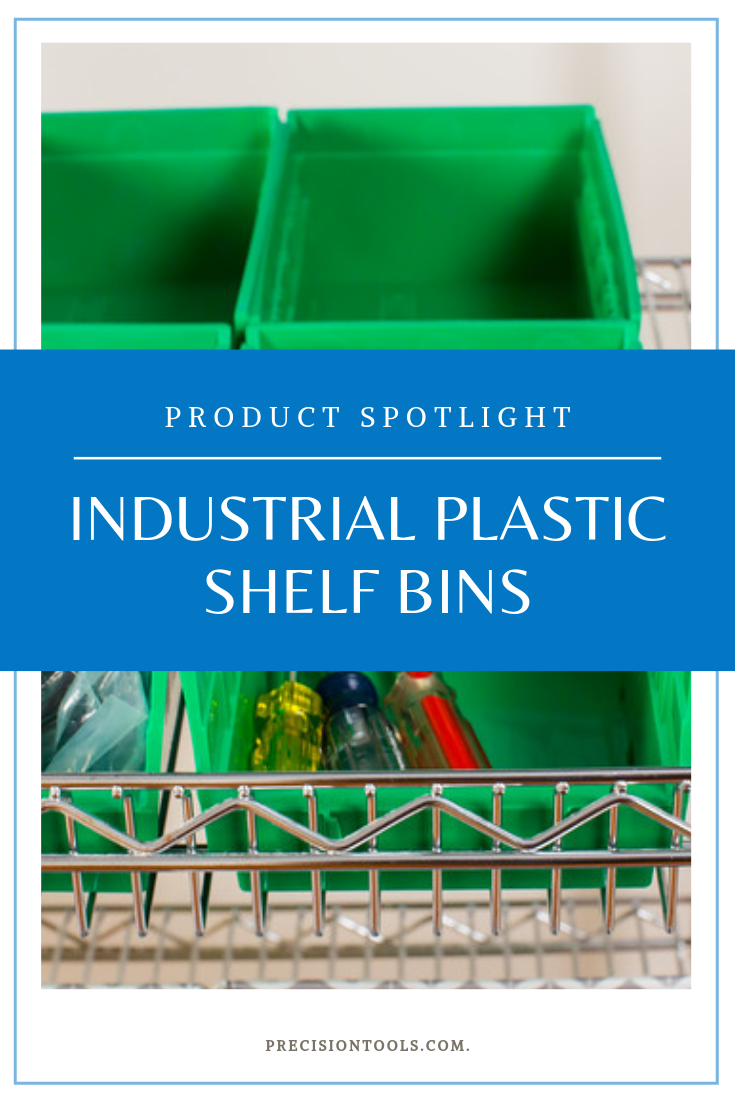 For help shopping our selection or if you have additional questions, please contact us at 1-800-221-8665 or via Live Chat.