Tips for Cleaning and Organizing Your Garage + Printable Checklist
'Tis the season for Spring Cleaning, and we at Omega Storage Solutions know that the garage is the last place you want to clean. Therefore, we thought we'd make the dreaded task a little easier by rounding up expert tips for cleaning and organizing the garage. Plus, as a bonus, we even included a printable checklist to help keep you on track.
Below you'll find the seven best spring cleaning tips to tackle the garage, then keep reading to download a copy of the Spring Clean Your Garage Checklist at the end of this article.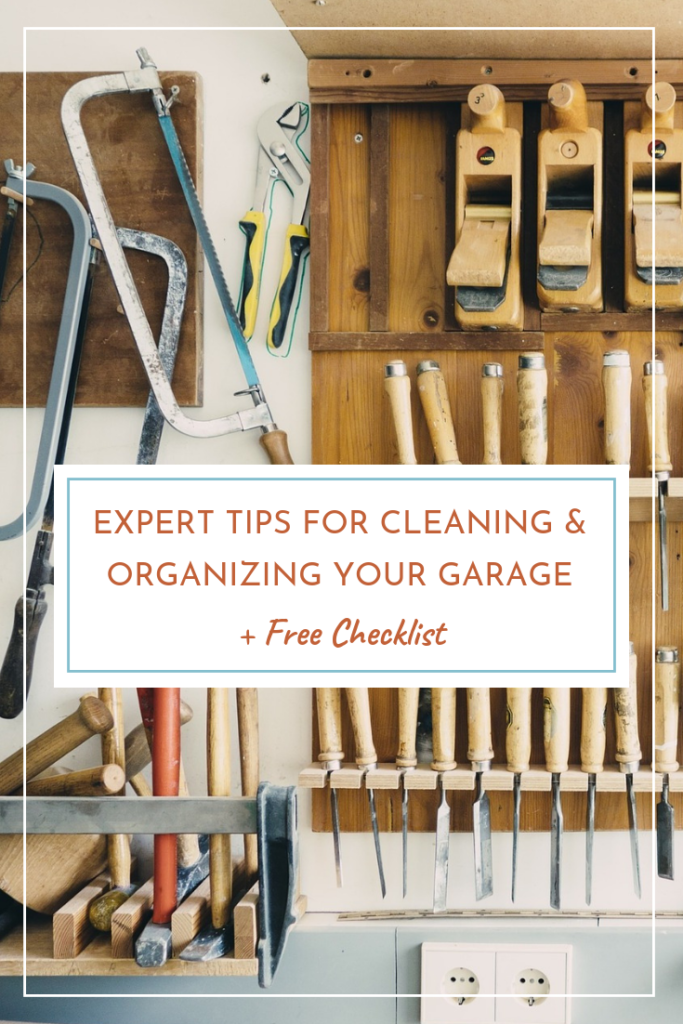 7 Expert Tips for an Organized Garage
1. Start by Removing Everything
Maureen Campaiola from A Mess Free Life suggests to start the cleaning process by taking everything out of the garage, and yes, even the stuff you rather avoid. This allows you to see everything you have and how it can be reorganized in a more productive way. It will also allow you to see the floor and make way to clean any surfaces that need to be scrubbed, dusted, wiped down, etc.
When you're removing everything from the garage, Campaiola suggest grouping like items together and making piles of what you want to keep, throw out, sell, and donate.
2.  Throw Most of it Out
Peter Walsh, is famous for teaching folks how to declutter, so it's no surprise his best advice for a tidy garage requires you to purge the junk. Asses what you use and decide what can be thrown out or donated. You'll find in most instances, it can all be thrown out!
"Eighty-six percent of single-family houses built in the United States in 2009 had at least a two-car garage, and for many families this square footage ends up becoming a repository for stuff we don't want to look at, don't have room for anywhere else, and aren't even sure we need. Garages are the elephant burial ground of the 21st century," Walsh says. "Stuff goes in; stuff never comes out." Therefore, think about what it is you really need to keep and what can go in order to free up space.
3. Deep Clean 
Garage Living provides helpful advice for the physical cleaning part of the process. "Use a rag to wipe down any shelving units and workbenches. If your walls consist of drywall or brick give them a downward sweep with a broom to remove dirt and dust. Use the broom also to remove any cobwebs you see and make sure to get the corners."
When washing the garage floor, Garage Living recommends using the garden hose and a gentle cleaner, such as Scotts Oxi Outdoor Cleaner. After your final rinse, use a squeegee to remove the remaining water. Any excess moisture can lead to mold so make sure to properly dry anything you wash.
4. Organize into Zones
Because so many different types of items are stored in a garage, this expert article form The Spruce recommends organizing your belongings into the following four zones:
Car supplies (windshield wiper fluid, anti-freeze, etc.)
Sports equipment
Tools
Recycle Center
However, feel free to think as small or as big as you need to when it comes to setting up zones. Professional Organizer, Mary Hoff says, "I like to create zones just like you would see in any department store: Garden, Tools, Automotive, Paint/Home Projects, etc. That way, people know where each item lives." Start with the four zones above and then work outward from there.
5. Consider Alternative Storage Methods
Rethink any current storage units and whether you should purchase or replace any bins, boxes, or shelves. If square footage is an issue in the garage, Martha Stewart recommends hanging things to make more space. Install a peg board or wall organizer. "Most gardening tools have handles, so try to hang shovels and trowels on the wall to save space and keep items off the floor." You can also hang golf bags, tennis rackets, and even bikes. Try a stud finder and screw an "S" hook into the ceiling to hang bicycles and other appropriate storage.  
Stewart also suggests avid gardeners who store their equipment in the garage, try mobile storage. "You can store soil, pots, and planters on a designated potting shelf in the garage, but another option is keeping your tools in a wheeled bucket or wheelbarrow so you can easily pull it out whenever you need to get to work on those weeds."
6. Set Expectations
If all this sounds a bit overwhelming, Organized Living suggests setting realistic expectations before starting a project like this. "Take a full day or even a full weekend to organize your garage. Cleaning and organizing your garage is going to take more than a few hours. Remember, Rome wasn't built in a day." It's important to plan and understand your limits.
7. Don't Do it Alone
Lastly, we have a tip that was pointed out by HGTV. They suggest that spring cleaning the garage is a task that you shouldn't tackle by yourself. Hire an expert, or round up a team of helpers. Otherwise, it may turn into an overwhelming task you abandon halfway through. Just be sure to have a plan for directing your helpers through the process from start to finish.
>> Click to Download <<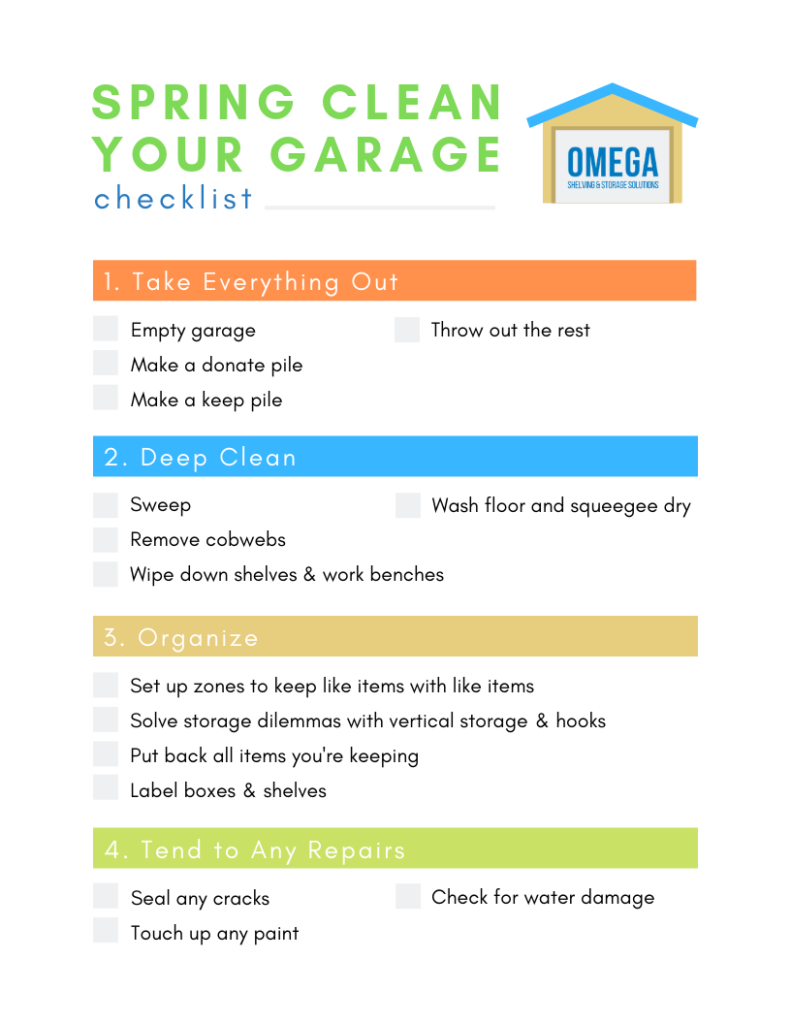 >> Click to Download <<
Omega offers unique storage solutions since 1965. For help purchasing shelving unit and accessories please call 1-800-221-8665 or contact us on the Live Chat. Our storage experts are standing by.