Epoxy Wire Shelving Facts
Epoxy wire shelving is a popular alternative to chrome finish. This type of shelving typically comes in colors such as black, white, or green and can be used for both commercial and home use.
Buyers tend to purchase this shelving style based on aesthetic choice. However, there are a few important facts to consider when weighing the options for buying wire shelving.
In this post, we explore epoxy coating and the vital information surrounding black, white, and green epoxy shelving to help shoppers, like yourself, decide if this storage option fits your needs.
Let's take a look.

Epoxy Coating
Epoxy coating is a unique finish that is baked onto steel or in this case, steel-made shelves. The coating then acts as an extra layer of protection against rust and corrosion.
This resilient epoxy coating allows the shelving to withstand cold temperatures and moisture while working to prevent tarnishing or buildup from bacteria. Therefore, epoxy coated shelving provides a durable and safe storage option against germs and temperature fluctuations.
Different manufacturers may sell different colors of epoxy coated shelves, but all shades of epoxy will give you the same excellent protection against rapid corrosion. Buyers can typically purchase epoxy wire shelving in three colors – black, white, and green.
Types of Epoxy Wire Shelving
1. Black Epoxy
Black epoxy offers a sleek, alternative look to traditional chrome wire shelving but with the same durability and strength capacity. Many retailers and warehouses prefer the look of black wire shelving because of its subtle coloring and slightly lower price point than chrome.
Black epoxy wire shelves are suitable for both dry and humid environments making them very versatile. So whether you want to use them in your storefront display or to store hockey equipment in a damp garage, the versatility is there.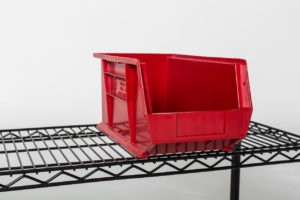 2. White Epoxy
White epoxy is another aesthetic choice, and commonly found in closets and pantries. However, understand the difference between white epoxy coated shelving, and it's inferior counterpart, white vinyl.
While white vinyl coated shelves are cheaper and more common, they are manufactured with less steel and therefore less durable than epoxy coated metal. So, if you like the white color but require a higher degree of functionality, make sure to avoid buying vinyl wire shelves.
White epoxy, similar to black, is versatile and suitable for both dry and humid environments. The white epoxy finish makes it an attractive storage option in any clean environment. But, do be aware that some white epoxies yellow more than others, and overall it is best to do your research with the manufacturer before purchasing this type of finish.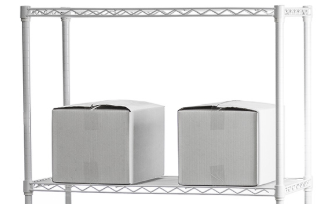 3. Green Epoxy
Green epoxy is a characteristic commonly associated with the food service industry. This type of shelving is ideal for storage in moist and humid environments. Traditionally, it's meant for wet environments such as walk-in freezers, wine cellars, and commercial kitchens.
You may also find that green wire shelving sometimes comes with the bonus of antimicrobial protection. This added layer over the epoxy increases protection against bacteria, mold, mildew, and fungi that could potentially contaminate food or cause unpleasant odors. Since green shelving is mainly used in the food industry, antimicrobial shelves tend to be green, although they are not solely limited to this option.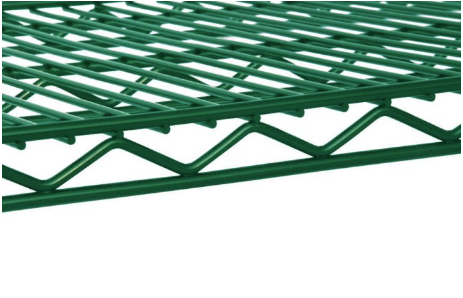 Conclusion
So, when should you buy epoxy wire shelving? Well, it depends on the environment. Epoxy wire shelving can be a budget-friendly and visually pleasing storage option for businesses and homeowners. However, it comes down to where you're putting the unit.
When buying any shelving, you need to take into account temperature, weight capacity, and the possibilities for moisture. Look towards industry trends and commit to a manufacturer you can trust.
If you would like to consult with one of our Omega experts on purchasing wire shelving, please call us at 1-800-221-8665 or message us on the Live Chat. Our team is happy to assist!