Differences between Zinc and Nickel Chrome Plated Shelves
There's been debate over the effectiveness of zinc plating versus nickel plating in the world of chrome wire shelving. Therefore, we at Omega Storage Solutions thought we'd dish the facts and settle the score between zinc vs. nickel once and for all.
So, which is stronger? Who's shinier? What plating option is the most cost-effective?
Let's take a look below.
Zinc Vs. Nickel
Zinc Plating
Zinc is a silvery-white metal used for galvanizing, or coating, metals such as iron and steel in order to protect them from corrosion. The process in which Zinc is used to coat metals is also known as Zinc plating.
Zinc plating is commonly used and well-known for its protection against rust and deterioration. It is also a relatively inexpensive finish for industrial shelving, due to the fact that it is readily available. However, depending on the methods used to apply zinc coating, it's sometimes better used to increase corrosion resistance on smaller metallic parts such as nuts, bolts, and screws.
There are a number of methods used to apply zinc coatings, including:
Zinc electroplating
Mechanical plating
Continuously galvanized sheet
Thermal diffusion galvanizing
Galvanized pipe and tube
General or hot dip galvanizing
Zinc metal spraying
Some advantages of Zinc plating include:
High strength
Lighter weight
Corrosion resistance
Recyclability
Low cost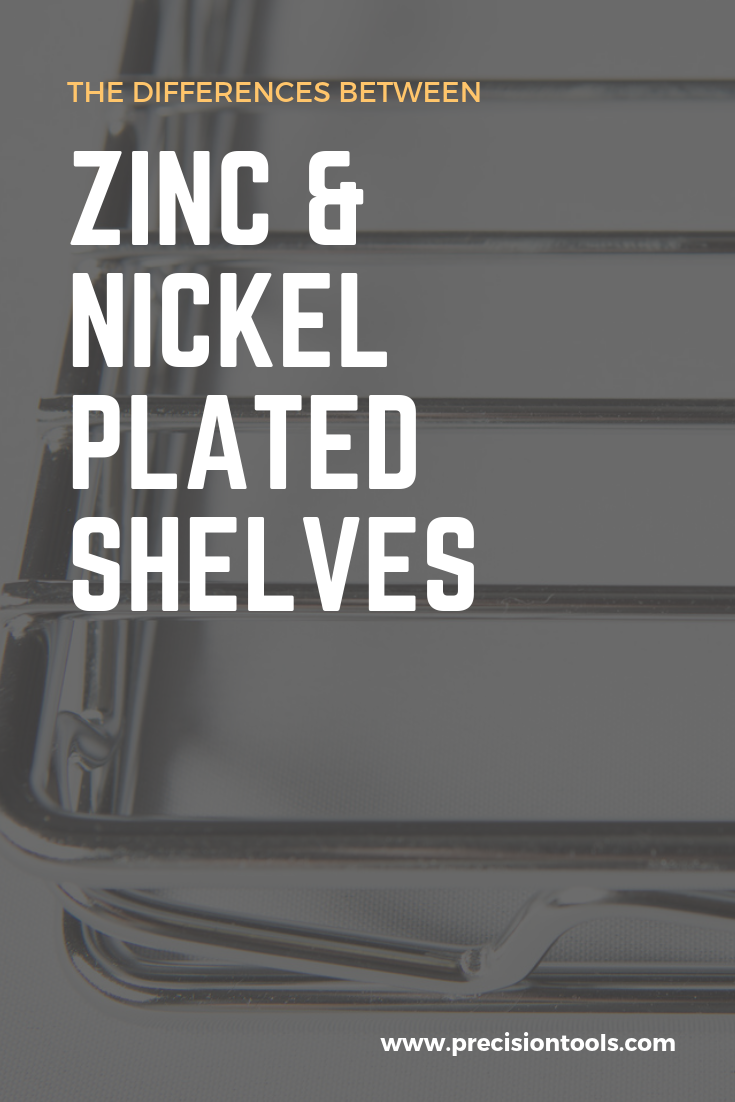 Nickel Plating
Similarly, Nickel is another silvery-white metal that can be plated to protect other metals from weathering. Both bright and matte nickel can be used in nickel electroplating (the process of depositing nickel onto a metal part) as well as the underplating of silver and gold. However, for shelving purposes, we are going to focus on Bright, Nickel Chrome Plating, also known as Decorative Chrome Plating.
To get a better understanding, note that decorative chrome plating, often referred to just as chrome, is a technique of electroplating a thin layer of chromium onto a metal object. This process is usually applied over bright nickel plating.
Nickel plating can be applied to steel, aluminum, copper, brass, and iron for a clean and bright finish and increased protection against wear and tear. It is also ideal as a base for other electroplating coatings to increase brightness.
Some advantages of Nickel plating include:
High durability
Smooth texture
Corrosion resistance
Highly reflective surface
Good conductivity

Why We Prefer Nickel
As you can see, Zinc and Nickel are very much alike. The main differences come down to cost and shine.
Often, we work with retailers and other businesses where wire shelving is on full display along with products and/or workspaces. Therefore, while we don't deny Zinc can get the job done, we are partial to the visual benefits of Nickel.
Nickel produces high leveling properties to hide polishing lines and imperfections. Plus, parts processed with a bright nickel plating maintain their appearance and brightness over time, making it shinier and overall more visually appealing than Zinc, especially in the long run.
As a result, we prefer Nickel plating due to its appearance as well as its higher protection rate against tarnish and scratches over time. Some of our competitors work solely with Zinc, and although strength, weight capacity, and functionality are pretty much equivalent, we genuinely believe Nickel chrome offers a higher quality of product and a nicer appearance.
If you have any questions about our chrome wire shelving, feel free to give us a call at 1-800-221-8665 or chat with on the Live Chat. Our experts are standing by to assist.