Product Spotlight: Wall Mounted Shelving
If you struggle with limited space, getting storage off of the floor and onto the wall could change your life!
Consider wall mounted wire shelving. Our Omega Wall Mounted Shelves are an excellent way to take advantage of overhead space in both home and commercial use. They're strong, ventilated, and NSF certified for professionals in the foodservice and healthcare industries.
We stock wall mounted wire shelving kits in over 40 different sizes along with individual parts. Our kits also come in chrome, black, and freezer shelving to accommodate a variety of needs. For more information on these products, keep reading.
Fixed Wall Mount Kits
Our Fixed Wall Mount Kits come with everything you need to assemble the unit. Wall mounted wire shelving kits consist of one wire shelf, one set of brackets, and four collar plugs for a clean finished appearance.
These kits are incredibly sturdy and provide industrial-strength use. However, the definite weight capacity will depend on your wall construction and the type of anchors used. With that said, these shelves can typically hold between 100 to 500lbs.
Adjustable Wall Mount Kits
If you anticipate changes with your product or storage, then we recommend the Adjustable Wall Mount Kits. These shelf kits also come with everything you need to assemble the unit and allow for adjusting and readjusting shelf heights as needed.
We have prepackaged kits of 2, 3, 4, and 5 tier units available in a variety of depths. Lengths start at 18″ and go up every 6″ to 72′ width. These units even allow for an additional tier to be added on in the future if required.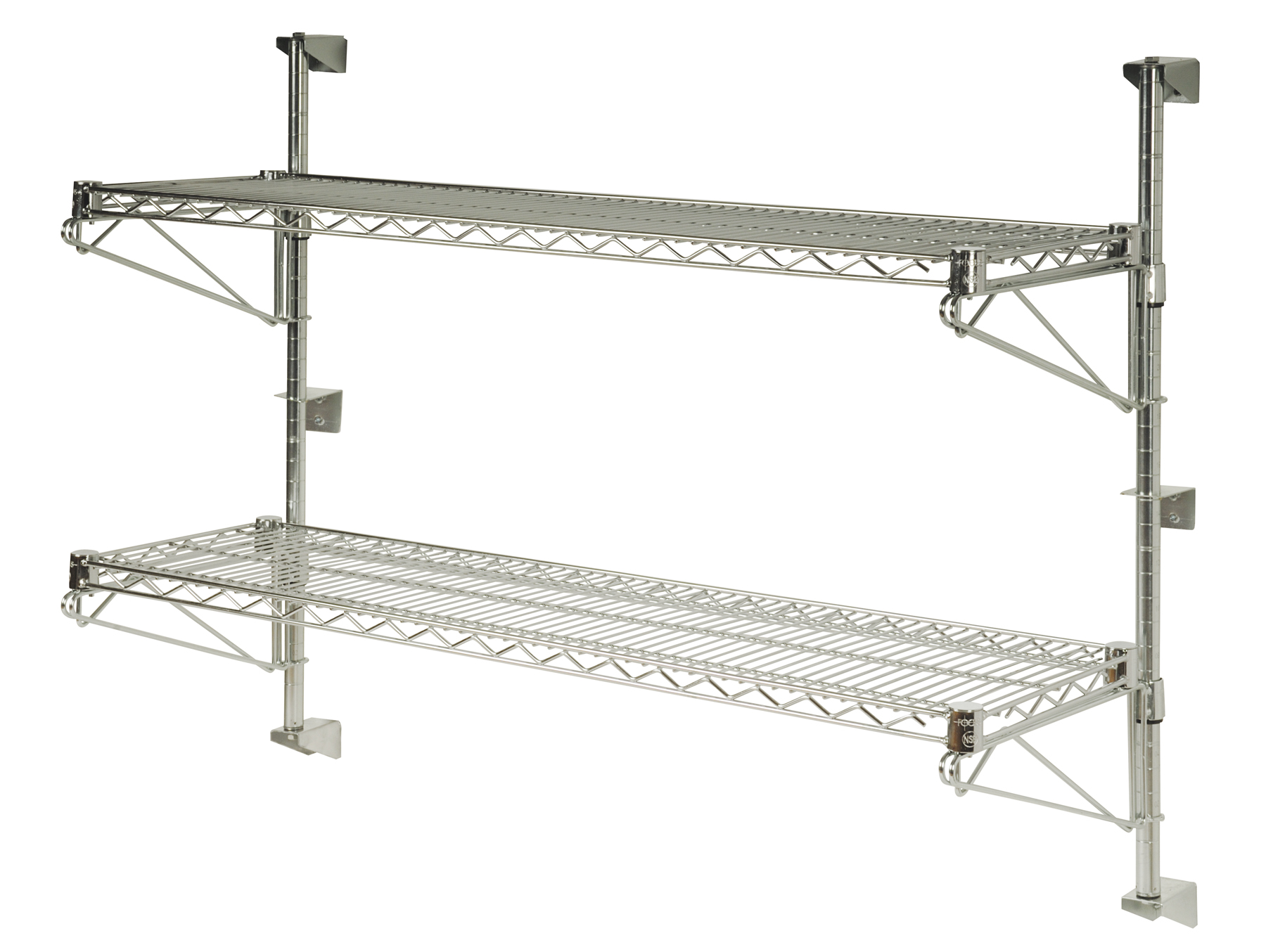 With so many different options, the uses for our wall mounted shelving are limited only by your imagination. These units thrive in commercial and businesses settings as well as in garages, basements, and even in kitchens and home entertainment setups.
Keep in mind that chrome shelving is meant for dry storage. If you plan on using wall mounted shelving in wet environments, we recommend the freezer or black epoxy shelf kits.
If you would like assistance shopping our selection of wall mounted shelves or have additional questions, please call us at 1-800-221-8665 or message us on Live Chat. Our experts are standing by!