How would you like to hang all your clothing hats, umbrellas etc?  Chrome garment racks fit the bill.  Our garment racks  give you the ability to create another closet. Go mobile or stationary depending on your needs. Everybody needs more storage space.  Our garment racks give you the ability to store not only your clothes but your other possessions.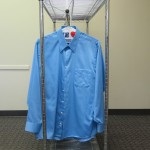 Not just lightweight things. Unlike other flimsy garment racks, our shelves are rated to hold between 600 to 800lbs.  This way you can store whatever you desire. Our chrome wire garment racks are commercial grade built to last forever.
Assembly is a breeze. In addition to hanging your garments our shelves are strong enough to hold anything you need. Many have shopped everywhere for garment rack s that won't collapse under the weight of clothing, shoes and accessories.  Maybe you've fallen victim and bought a cheaper rack but it buckled and broke under the weight. Well, look no further. Our chrome garment racks are sturdy and strong. They hold a ton of clothes, never collapse, and look great even when used daily. The wire shelves are stronger than you will need and provide perfect ventilation for your garments.
These racks adjust to your needs. You can add an extra shelf for even more storage space. Each shelf is fully adjustable.  It will adapt to accommodate your future storage requirements.   Go mobile and add a "mobile closet" perfect for guests,   laundry rooms. The attractive appearance makes our chrome garment racks ideal for offices and work areas. Add another garment rod and have a 2 tier garment rack. 2 tier garment racks are popular when storing children's clothing.
Need a specific size because of limited space? We have over 40 options.  Chrome garment storage racks come in 2 or 3 shelf units, (of course you can always add an extra shelf depending on your needs. Go mobile or stationary. Choose from 4 shelf depths.  We have the small 24' wide racks that will fit into that tight space.  We also go as big as 24" deep and 72" wide.  Be sure to double check your space before ordering. As the saying goes "measure twice cut once".
Somethings to keep into consideration when deciding on the right garment rack for you. Obviously the space you have to work with is imperative. Be sure to keep your height into consideration. Also pay attention the length of your garments. If you have particularly long garments our 74″ height racks will be best for you. If you are using it for children's clothes you may want to consider adding an additional garment rod and having a " double decker" garment rack. We are here to help you so if you have any questions give us a call.