Spring Clean Your Warehouse
Spring is here and for some, that means inspection and auditing season is also upon us. Not to worry, though! We've put together the best spring cleaning tips for your warehouse. So, whether you need to kick it in gear or simply tidy up after a long winter, these 7 steps to successfully spring clean your warehouse will have the place in shape faster than you can say forklift.
7 Steps for Successfully Spring Cleaning Your Warehouse
Plan
Ok, so maybe we exaggerated a bit on the time frame. In actuality, you don't want to rush through a deep cleaning. Instead, you want to plan it out carefully. This will make your cleaning efforts more efficient versus diving in blind. For best results, select a time when the warehouse will be mostly empty, such as a late evening or holiday weekend. A good tip is to overestimate the amount of time you'll need so that you're fully prepared.
Divide and Conquer
Get all hands on deck. If it's not in the budget to hire an outside cleaning company, don't sweat it. Utilize your employees during the cleaning process. Divide your staff into smaller teams and give each a designated task to tackle.
Rent a Dumpster
Since there is going to be major cleaning ahead, it's a good idea to rent a dumpster in advance. Most likely you'll have a number of big garbage items to purge and a dumpster will not only make it easier for your staff, but also serve as good visual reminder that some things just need to be thrown out.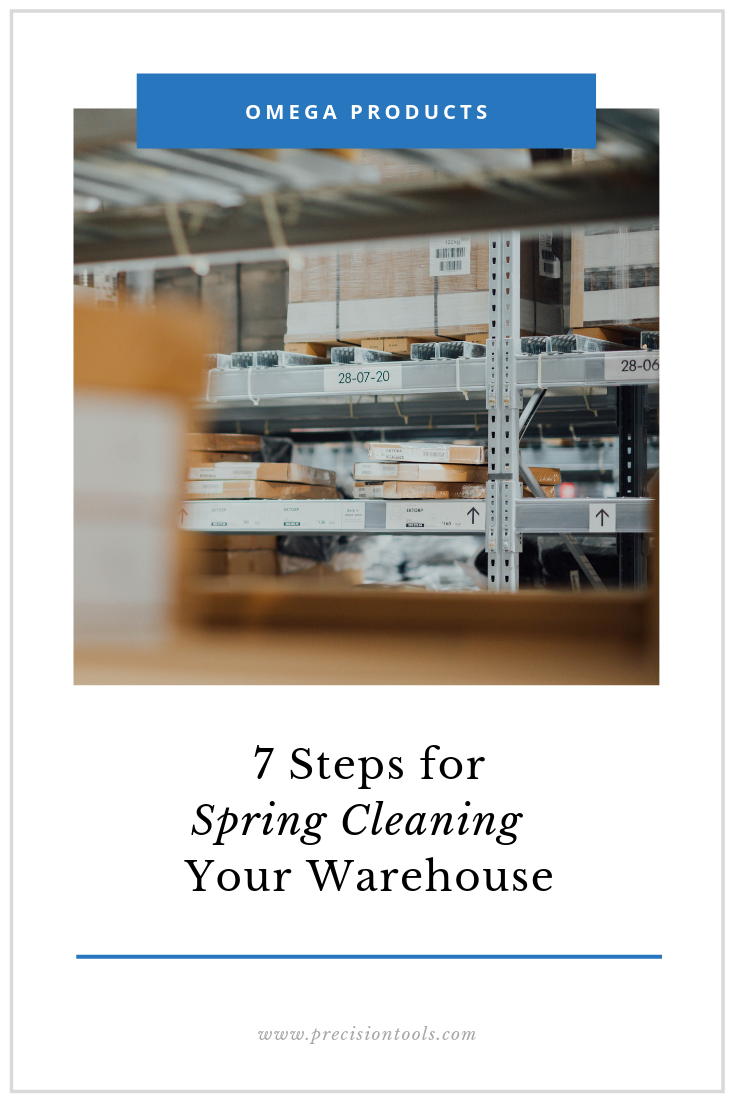 Deep Clean
Amongst sweeping, dusting, and wiping down shelves, make sure to schedule a day to have the floors machine-washed and buffed. Going forward, this will keep dust build up to a minimum throughout the course of the year. And don't forget to clean the outside of the warehouse as well, making sure that all outdoor equipment, including loading dock ramps, yard ramps, etc. are in good condition.
Reorganize
Consider your current layout. Does it need an update? If there are loose items lying around, now is the time to find them a home or throw them away. Plus, a little rearranging can increase your storage capacity simply by moving storage racks, bringing in additional shelving, or adjusting beam levels. Re-positioning your storage may also reveal any spills or mold build-up that may have been going unnoticed.
Evaluate Inventory
Sometimes certain materials become outdated and/or take up space that could be used more efficiently. Conducting an internal audit of all inventory can optimize goods and products and reduce overhead. In addition,
Check Equipment and Schedule Routine Check Ups
Lastly, replace any damaged equipment or broken storage units. Spring cleaning is a great way to get reacquainted with safety. So, check that all your key material handling equipment, such as conveyor systems and dock equipment, are scheduled for a routine maintenance check and as well as any necessary forklift tune-ups. It's also a good idea to tighten the bolts on your pallet racks and make sure all other installations are up to protocol.
We at Omega Storage Solutions want to make sure your warehouse is in tip top shape this season. Contact us today at 1-800-221-8665 or use the Live Chat to speak with a representative about our unique and effective warehouse storage units.
Feel free to check out other articles on our blog for more information on warehouse productivity and storage.