Getting Your Dorm Room Ready for College
Back to school season is upon us, which means many first-year college students are getting ready to settle into their new dorm room.
Now, we understand that organizing a small room can get a bit tricky. However, there are plenty of hacks we can help you with to get the job done!
Below you will find five of our best tips and tricks for creating an organized college dorm room.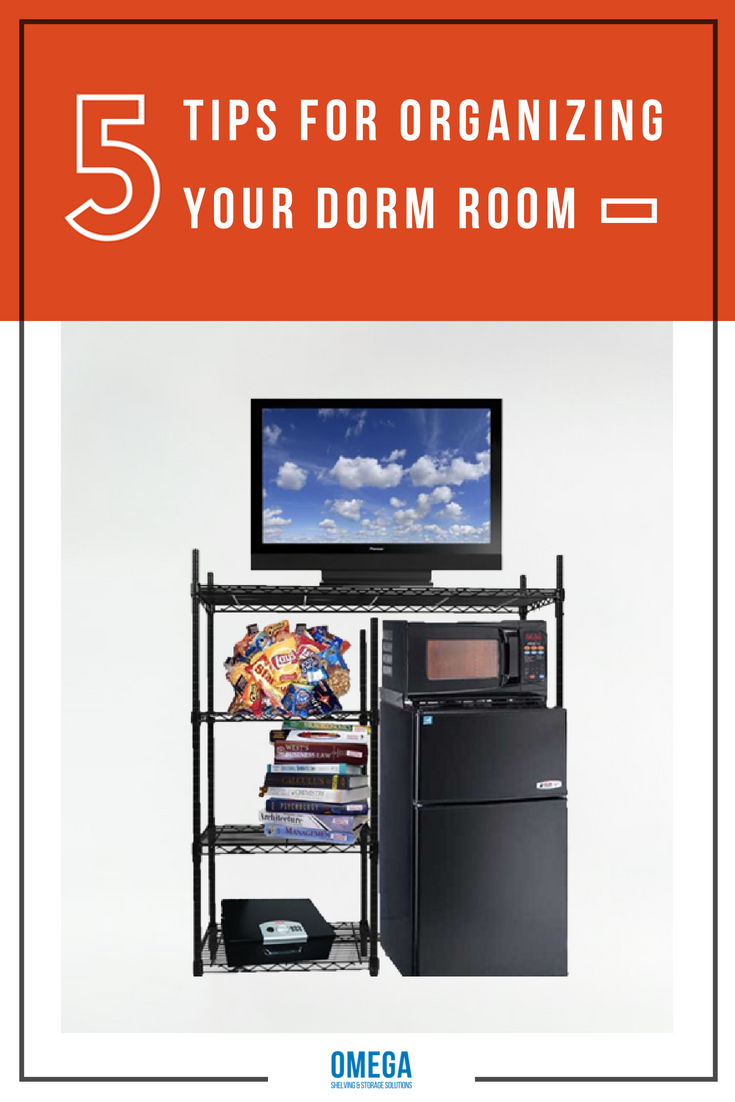 5 Tips for Organizing your College Dorm Room
1. Utilize Vertical Space
If you're dealing with limited space, it's best to work from the ground up. Consider tall storage units that help you stack vertically. Over-the-door organizers, wall mounts, and wire shelving are great ways to take advantage of vertical space. Weigh your vertical storage options when setting up a computer desk, tv, and even "snackage." Storage units that serve multiple purposes on one single wall work wonders for a college dorm.
2. Use Command Hooks
Generally, students aren't allowed to drill holes or nail anything onto the walls of their dorm room. Luckily, Command Hooks exist, and they're a student's best friend! Use them as a key ring for hanging jewelry. Or use them instead of a coat rack for items such as scarves, hats, umbrellas, purse, etc. Command Poster Strips are great for hanging artwork and pictures. Plus, you can purchase heavy duty command hooks in a variety of weight capacities to get even more of your storage off the floor and onto the wall.
3. Install Tension Rods
You can also make the most of tight areas and odd nooks by throwing up tension rods. These can be used to organize clothing articles and accessories as well. Or you can use them to hang towels. If using wire shelving, you can install a garment rod for a similar effect. Either way, hanging storage is yet another way to get storage off the floor when organizing a tiny space. Sensing a reoccuring theme yet?
4. Don't Forget Under-the-Bed Storage
Ok, while we are obviously huge supporters of getting it off the floor, there is one floor space we are particularly fond of when it comes to storage. Mastering the space underneath your bed is a real game changer, and baskets and bins for work great. Just because you don't see it, doesn't mean you can't maximize this space. Create an under-the-bed caddy with toiletries for grab-and-go access. Or for more inspiration, check out this article from HGTV.
5. Buy a Wall Grid
Wire wall grids are both super trendy and multi-purposeful. Use your wall grid to help decorate your dorm with clipped photos or utilize it for hanging notes and schedules. They're also great for hanging up behind your bed. String lights across to give the dorm room extra flare! Not only are they excellent for decorating, but they are once again another neat invention for maximizing wall space.
Happy Dorming
We at Omega Storage Solutions hope these tips help create an organized and headache-free college dorm room. If you need help shopping for wire shelving units to maximize bedroom space, give us a call at 1-800-221-8665 or talk to us on the Live Chat
If you enjoyed this article share it with your friends on social media using the social share icons below.
Good luck in school!