Holiday Decluttering Tips + Checklist
Call me Scrooge, but while the holidays may be jolly, there's no denying the additional clutter this time of year brings. You've got the decorations, the gifts, cooking, and baking…it gets messy.
However, throughout the years, I've learned the best way to tackle merry messes is to declutter beforehand. The more prepared you are for the humbug, the more room you'll have for tidings of comfort and joy.
So, in this post, I share what to get rid of around the house this time of year. Plus, you'll find a printable checklist that will have you rocking around the Christmas tree in no time!
Take a look.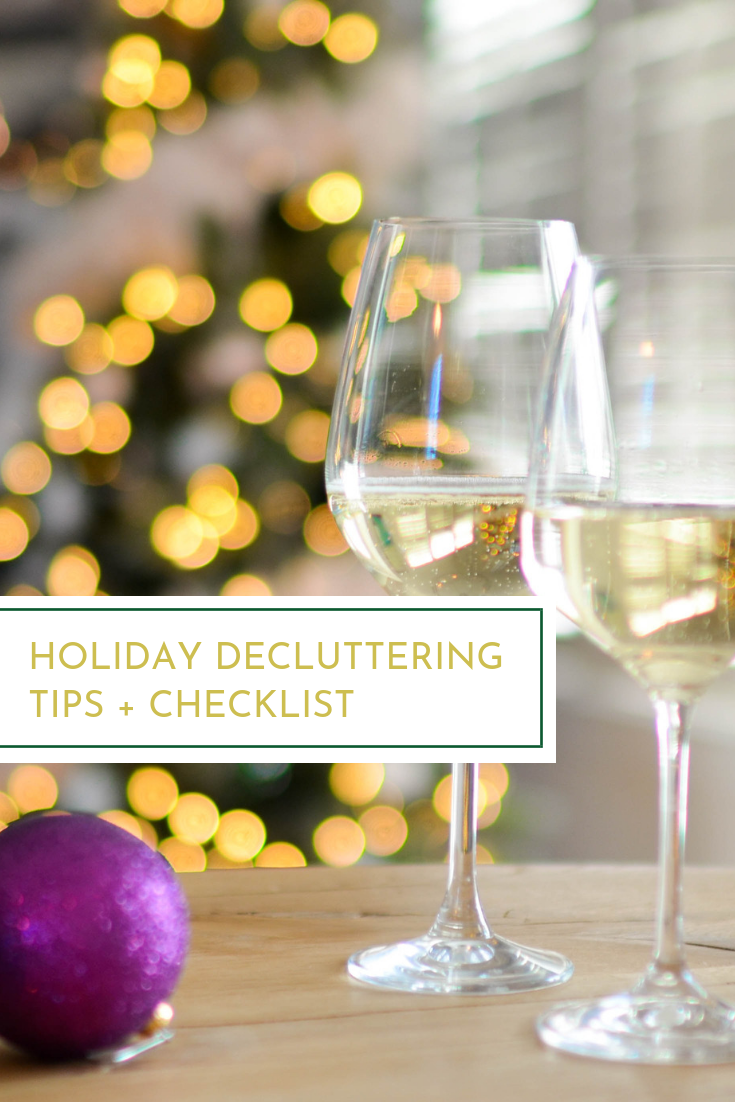 Decluttering for the Holidays
Approach decluttering, one room at a time. You may want to consider whether new storage solutions are in need, along with what can be donated to shelters or local charities.
Living Room
A pre-holiday sweep of the living room will clear space for décor and incoming snowy winter boots. Remove paper clutter and old books from the coffee table. Today's digital era makes it easier than ever to get rid of clusters of old DVDs, CDs, and video games. Throw out anything out-dated. If working with limited living space, get items off the floor and onto the wall with wall mount shelving.
Kitchen
Get rid of anything that is "stink, stank, stunk" in the fridge. Toss out expired pantry foods and old spices on the spice rack. Get rid of that pile of fast food condiments, the glob of plastic grocery bags under the sink, and any take-out menus (that's what smartphones are for). Also, say goodbye to any cups, plates, utensils, and dish rags that have seen better days.
For more kitchen tips, check out our article on How to Prepare Your Kitchen for the Upcoming Holidays.
Bedroom
If you're a parent that hides Christmas presents in your bedroom, you may need to make space in the closet or under the bed. Get rid of anything that doesn't fit or hasn't been worn in years. Dispose of worn-out clothing and undergarments. You don't need expired makeup, broken jewelry, and flimsy hangers either. Also, throw out old clothes and shoes in your kids' room, along with any broken toys – that way they'll have space for all the gifts you're hiding!
Bathroom
Not many holly jolly items make their way to the medicine cabinet. However, while you're gutting the clutter, you might as well remove old medications and expired personal care products taking up space. If you enjoy festive soaps and holiday linens, tossing out old towels and empty containers is definitely worth your time.
Office
Since the end of the year is approaching fast, many office spaces find themselves guilty of drowning in old paperwork. Start the New Year with a nice clean desk. Grab that black garbage bag and chuck dried out pens and markers, unnecessary receipts, and old planners. If your office is a crafting space, toss out crusty glue, old paint, etc.
Download our Checklist
Overwhelmed? Don't be! We've thrown all our decluttering tips into a handy-dandy holiday decluttering checklist. We've even added a few miscellaneous items as well. Print it out and avoid being haunted by the ghosts of clutter past 😉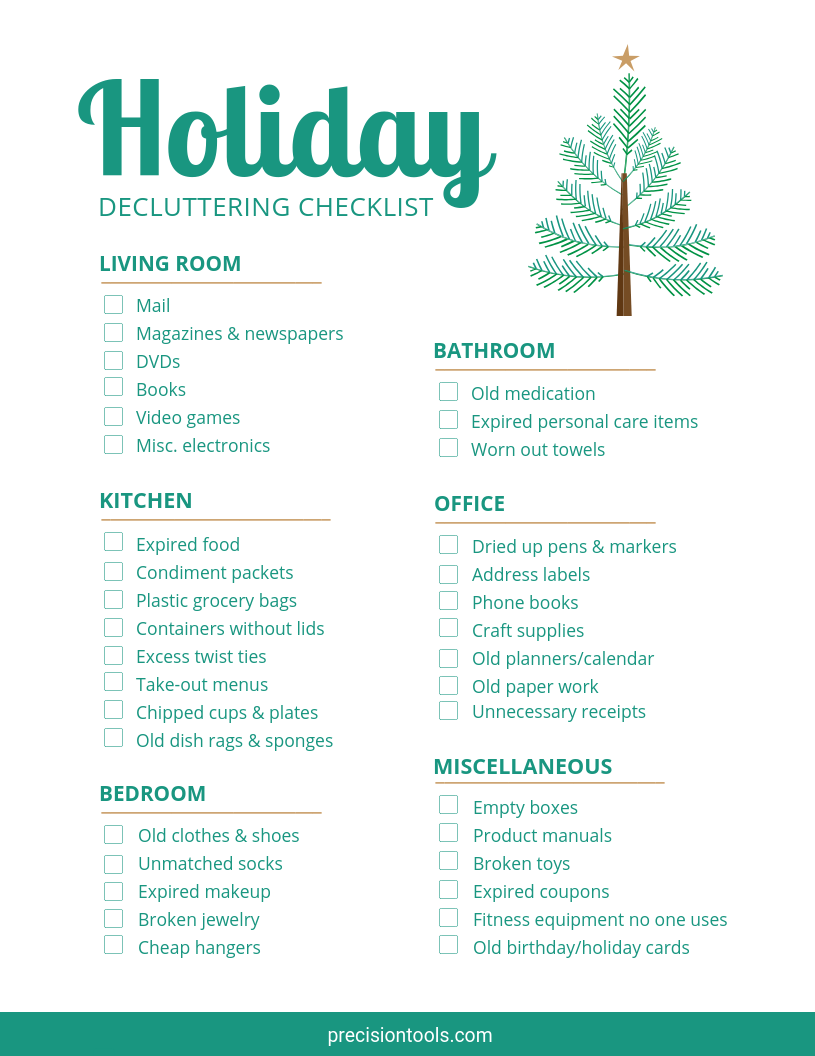 Like this article? Share it with your family and friends using the social media icons below.
Omega is a storage solutions company, specializing in durable, high-quality products to keep you clutter free. Check out our blog for more organizational tips. Or give us a call at 1-800-221-8665 for assistance shopping our wire shelving products.